Scarlet Threads became a "real" business this year. We made it through some very trying times over the last couple of years - and we are truly stronger than ever. On our plane rides (26 hours each way) to China this month, Carrie and I spent some time reviewing the mission and business plan of Scarlet Threads. How have things changed? What have we learned? Who are we going to be?
Spending time in the village where we operate was incredibly eye-opening, too. This trip more than the others, perhaps. It seems like every time I visit, I learn something profound. Respect, Pride, and Dignity - tough lessons for any of us to learn. I learned how proud our seamstress is that she supports her family through her sewing business. I learned how proud she is of her craftsmanship. And, I learned that she is no different from many women (whether in developed or developing countries) who are supporting their families in- and out- side the home. They all have our admiration and respect!
One of the women on this side of the world who has my respect is Aggie from Aggie's Kitchen. Many of our readers might remember that she is one of our earliest supporters. She hosted our very first Apron Party a couple of years ago and and we've kept up a fairly regular correspondence ever since. I've enjoyed seeing her blog flourish, and she is my go-to source for fresh dinner ideas. It's always refreshing to visit her blog or facebook page because she works a story - a real story, often about family - into posts.

As if the meal-time inspiration is not enough, she encouraged me along the way to my first triathlon! She told me that all of the energy of the participants would carry me along, and thank goodness she was right or I'd still be out there on the course crawling toward the finish line.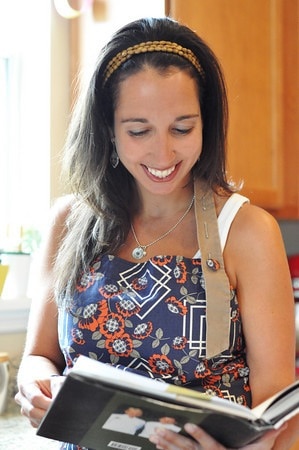 Here's Aggie - wearing one of ST's first aprons.
One of the many reasons I return to AK is a simple connection. Aggie's family is Italian (for real - from Italy - Italian) and they owned an Italian restaurant for years while Aggie was growing up. When I can't get my own (Italian) parents on the line, it's a quick trip over to the blog! For example, I looked up the Feast of the Seven Fishes... and it was all right there.
No, Italians don't eat pasta for every meal. And, on Christmas Eve, there is only one thing on the menu: seafood. Lucky for me, my Nonna left a hand scrawled recipe on the back of an envelope for one of the fish casserole dishes. Lucky for you, Aggie wrote
a blog post
!
Hop on over, because you'll see what I mean about this family girl. Even when food is the "center piece" in her blog - family is what makes food special. I think that's what I love about AK - or maybe it is the original recipes.
Since AK is my favorite foodie blog (well, foodie-fitness-gardening), I thought I'd share so that you can have the privilege of following! And, now I need to go find something to cook... and I'm thinking the
maple sausage vegetable roast
(posted you know where) is exactly what's in store for my two person family tonight... yum!