If you read the blog on Friday, you will know that we have a new blog partner (we call them Advertising Affiliates) named Samantha and that she is a wonderful, witty, type-A, perfectionist who created a fabulous food blog called
Five Heart Home
. We are thrilled to share one of her tantalizing recipes, complete with gorgeous (read: way-better-than-you-get-from-me-because-I'm-just-learning) photos.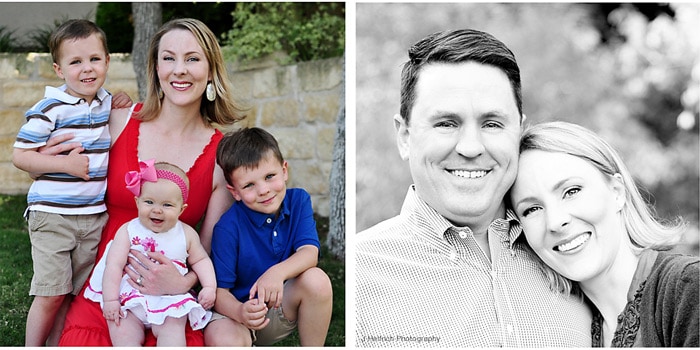 You'll probably see more from Samantha and Five Heart Home here on the blog as our partner-friend-ship grows, but you should definitely show some love and
like her on Facebook
and
follow on Pinterest
and, I suppose I should say it but you should have already done it, visit/follow her blog.
We will be sharing more about the affiliate program soon. Right now we are in beta test mode and all signs are showing us that this could be a great way to build the ST Community and grow our fair trade mission (
let's be frank, growing sales is really the only way to work with more artisans and work more with our current partner-artisans
). My favorite part of Scarlet Threads has been working with new people and watching them fall in love with the work we do, the people we work with, and the products that we create - and then watching them become our cheer leaders and prayerful supporters.
-- Thank you to one and all! Here's more from Samantha! --
Hi, everyone! It's Samantha from
Five Heart Home
and I'm so excited to be visiting Scarlet Threads today to share one of my family's favorite quick bread recipes!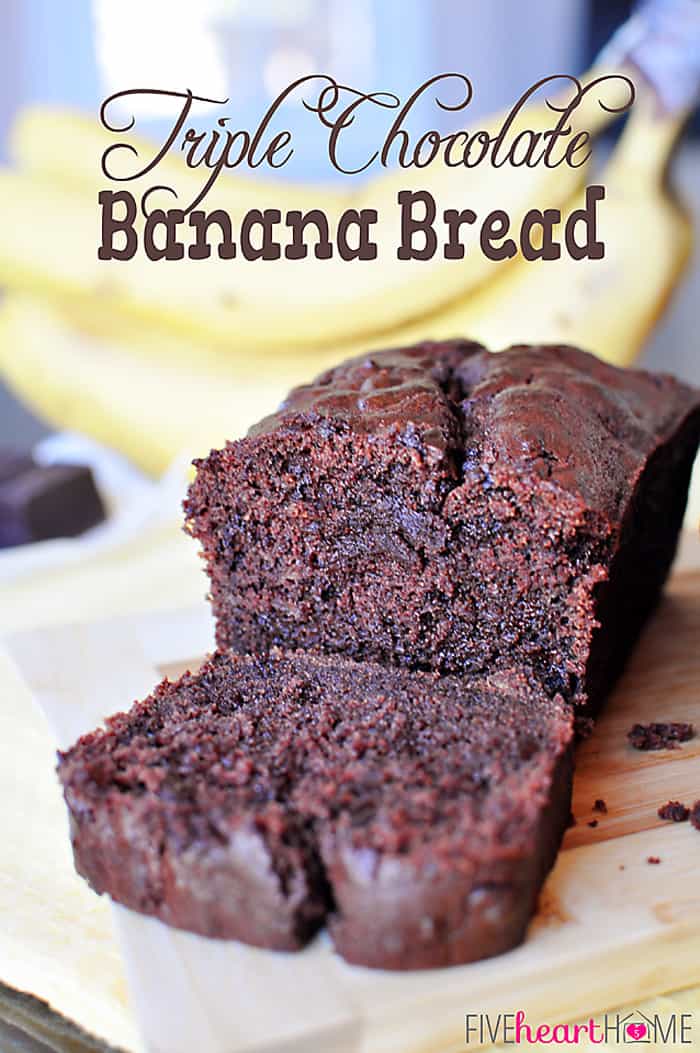 So who else buys way more bananas than you can possibly eat before they start to turn brown? I'm guilty of that almost every time I go to the grocery store. You'd think I would have learned my lesson by now, but the truth is, I somewhat do it on purpose because I love baking with bananas! I have lots of
banana
-
loaded
goodies
in my recipe file, some of which I've made just a few times and others that my family requests again and again. And this Triple Chocolate Banana Bread is definitely on the frequent flier list!
After all, who doesn't love banana bread? And this is banana bread
with chocolate
. Three kinds of it, to be exact. Not only do you sift a bit of cocoa powder into your dry ingredients, but you also stir some melted baking chocolate into your batter and then add plenty of semi-sweet mini chocolate chips to take it completely over the top!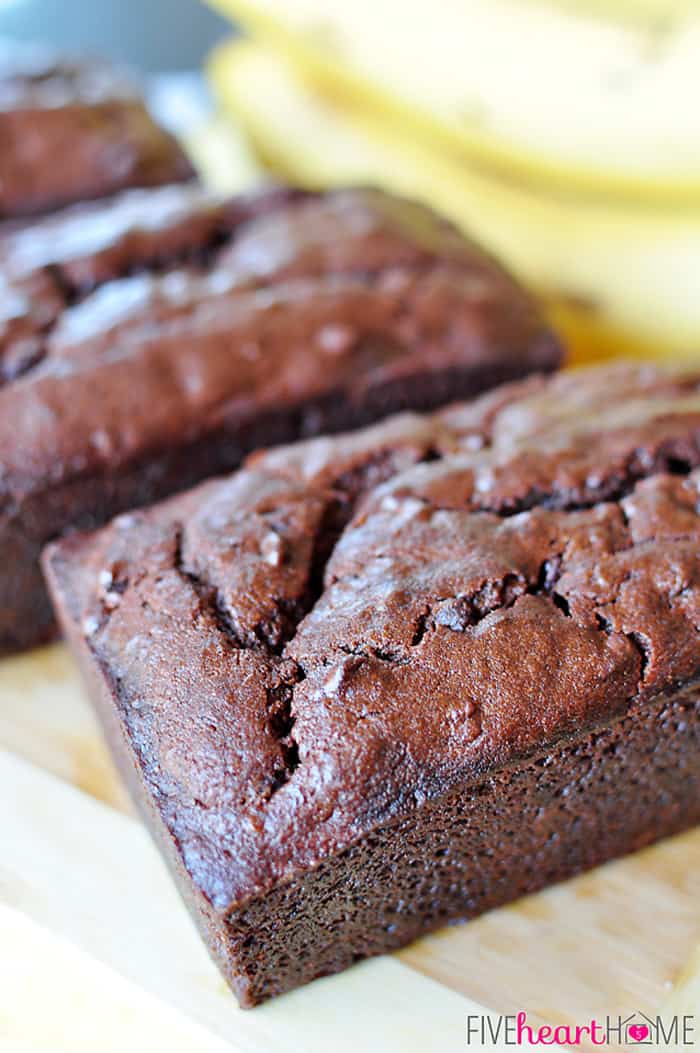 The resulting banana bread is soft and moist and oh-so-chocolatey, delicious for breakfast or a snack. It's perfectly tasty at room temperature, but it is
amazing
still-warm out of the oven with a pat of butter slathered on top. You can definitely make this recipe with regular all-purpose flour, but I typically make it with whole wheat pastry flour to make me feel better about eating it for breakfast. ;) I love baking quick breads, muffins, pancakes, waffles, and such with whole wheat
pastry
flour because it is 100% whole wheat flour but has a lighter taste and texture than regular whole wheat flour. By using whole wheat pastry flour in a chocolate-infused recipe like this, I don't think anyone would ever guess that it wasn't made with regular white flour.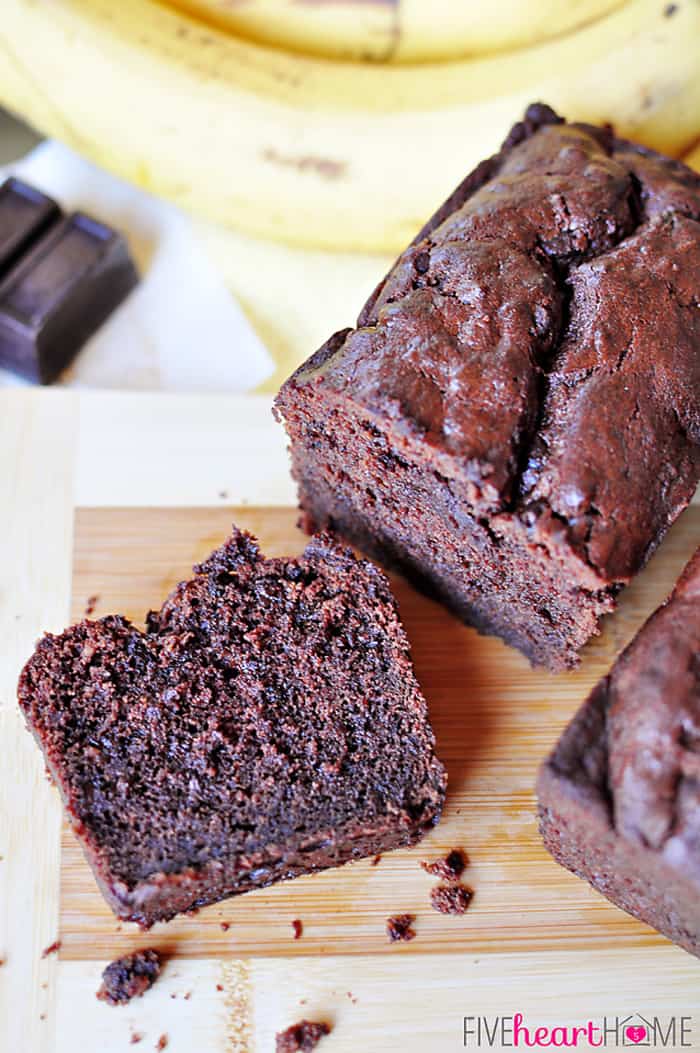 One of the things I've learned about baking quick breads is that I almost always prefer the outcome when I divide my batter between mini loaf pans instead of baking a full-sized loaf. Full-sized loaves are great but, at least in my experience, it's sometimes difficult to get the center to the desired level of doneness without overcooking the edges. The other bonus of baking smaller loaves? They're done -- and ready to slice into! -- that much quicker. Multiple loaves also make sharing and gift-giving possible...if you can restrain yourself from eating them all first. ;)
So the next time you have a couple of overripe bananas longing to be put to use, I hope you'll try this Triple Chocolate Banana Bread! And in the meantime, I'd be honored to have you stop by for more quick and easy, family-friendly, kid-approved recipes!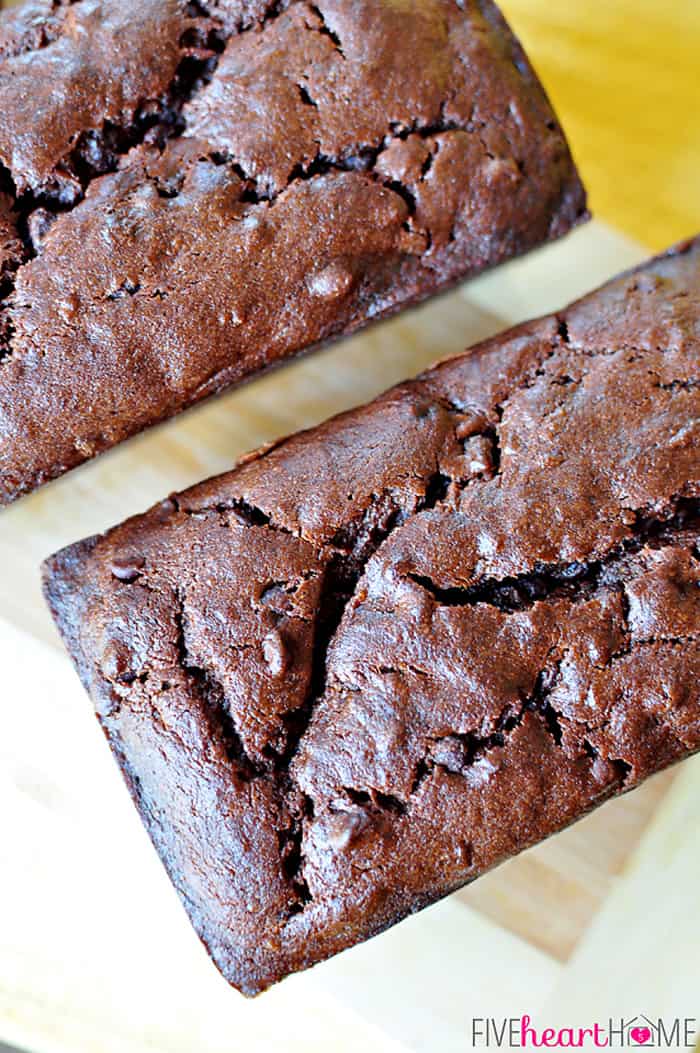 TRIPLE CHOCOLATE BANANA BREAD
1 1/4 cups all-purpose flour OR whole wheat pastry flour
1 teaspoon baking soda
1/4 teaspoon salt
1 tablespoon cocoa powder
1/2 cup (1 stick) unsalted butter, softened
2/3 cup sugar
1 egg
2 teaspoons pure vanilla extract
2 ounces unsweetened chocolate, melted and cooled
2 medium bananas, mashed (equaling approximately 1 cup)
1/2 cup sour cream
1 cup mini semi-sweet chocolate chips
Preheat oven to 350°F. Lightly grease (or spray with cooking spray) three 5 3/4" x 3 1/4" x 2" mini loaf pans.
In a large bowl, whisk together flour, baking soda, salt, and cocoa powder. In another bowl, use an electric mixer to beat butter until smooth, and then beat in sugar until light and fluffy. Blend in egg, vanilla, melted chocolate, banana, and sour cream until fully incorporated (batter may look curdled at this point...it will smooth out with addition of flour). Gently mix in dry ingredients and chocolate chips until just blended.
Evenly divide batter between prepared pans and bake for 40 to 45 minutes or until toothpick inserted in center comes out clean. Cool bread in pans for 10 minutes before removing to a wire rack to cool completely.
NOTE: Instead of mini loaves, you may also bake bread in a full-sized loaf pan for 60 minutes or until bread tests done.
I'd love to have you visit
Five Heart Home
sometime or join me via social media! Here are some of my latest goodies...